Group EFT Tapping Sessions
Join Us!
Join me for a Free Group Tapping session on October 16th at 6:30 pm CT!
This month we will be "tapping" on our FEAR!
YES!!! We all have a FEAR of something! Yeah, I know… it could be spiders or snakes or heights or water. These are not the fears we will be addressing in this group session. Those would be very specific that would probably do better in a private session.
We are going to address those fears we need to face for growth and expansion in our life and/or our business!
What are you holding back from doing? When you think about doing it, what emotion shows up that prevents you from moving out of your comfort bubble? What's preventing you from stepping forward toward your desires and goals?
It could be

…
Fear
Apprehension
Doubt
Distrust
OR SOMETHING ELSE???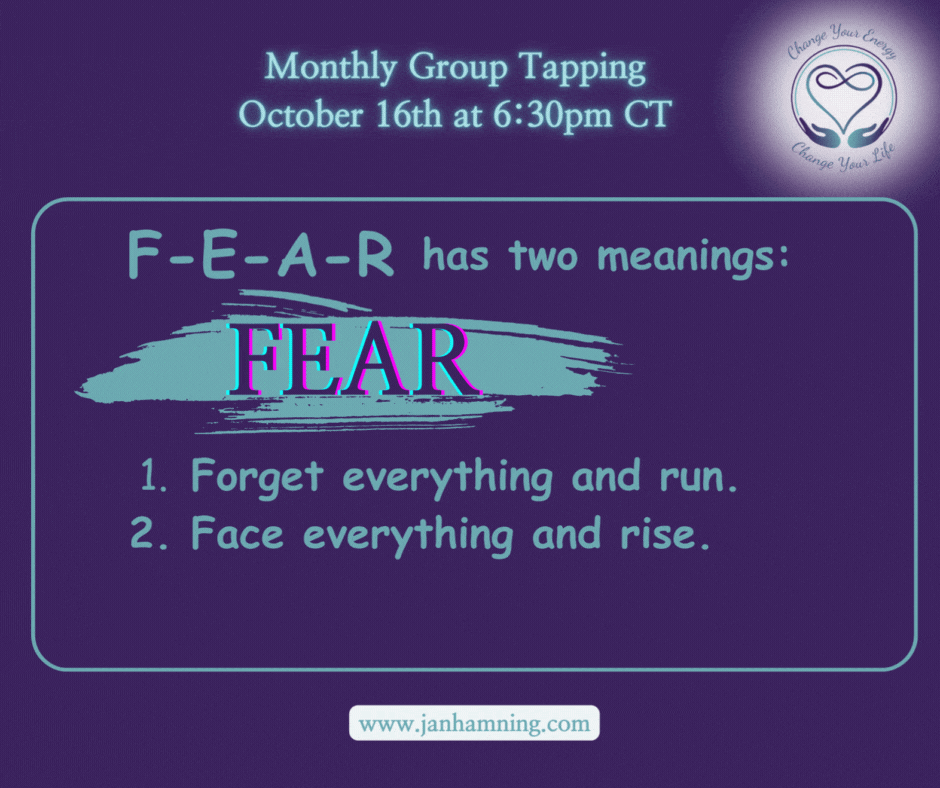 Let's get together and move energy in our meridians and minds to hopefully lower the intensity of the emotions you notice when thinking about dipping a toe out of your comfort bubble.
YES!!! We have worked on this in the past, but it is a topic that continues to show up with many people! Why not do it again??? Let's prepare ourselves to take action steps in the direction of our dreams and desires for 2024!!!
Before we meet on October 16th, write down on that paper that you will bring to our session the emotions that surface when you think of taking a step toward your dreams or goals! We will go through some steps with Eden Energy Medicine exercises, EFT "tapping" and whatever other wonderful inspirations that may show up in the moment to assist us in getting closer to taking action steps while feeling safe, secure and excited about it!
Bring paper and pen or pencil so you can take notes that you can refer back to in your own time!
No previous tapping experience necessary. Even though this is not a lesson on tapping, I am confident you will catch on quickly by simply following along.
⇓ Scroll down to register! ⇓
Let's tap together to create a feeling of peace and calm within.
It all begins with us.
Come into the group with the intention of learning and having fun!
Please plan on attending these sessions from a private and quiet space while on the call.
We respect the privacy of the group, therefore, these sessions will not be recorded.
You will receive an email with the Zoom link upon registration.
Refunds will not issued in the event you need to cancel. You may apply that credit to reschedule for a future session.
November 20th @ 6:30 (CT)
December 18th @ 6:30 (CT)